Many people have tried creating a YouTube channel with little success. It is even safe to bet that you have tried posting a video online at some time. Accordingly, the chances are that your videos received very few to no views, and you gave up on the idea. This is a common occurrence on YouTube. So, what is the solution?
The growing demand for videos should help you get more views. Cisco projects that by 2022 more than 82% of all consumer internet traffic will be based on online videos. Accordingly, research by Wyzowl indicates that people watch an average of 16 hours of online videos every week, while 85% of businesses use videos as a marketing tool. These stats indicate that YouTube is increasingly becoming a powerful marketing platform for businesses and personal gains.
What Is YouTube Rank About?
The basis of YouTube marketing is ensuring your videos are ranked in YouTube and Google searches. This enables people to find your videos using related keywords. Yes, YouTube is also a search engine and by far the second most used. Therefore, ranking your videos on this platform requires you to understand how algorithms work.
SEO experts have a solid understanding of how Google algorithms work. Regardless of such knowledge, it will still take time to test it successfully on YouTube. If you are looking for ways to rank your videos on YouTube, you are 100% in the right place. We have pulled some great tips together to enhance your video's visibility. Read on!
1. Create Quality Content
Many factors go into a YouTube video ranking, and quality content is always up there. While quality may not be a direct ranking factor because it is subjective, it does play a significant role in engaging your viewers. Quality content will attract many people to watch, like, and comment on your videos, which will result in a better rank on YouTube. Therefore, you have to ensure that your content is as engaging as possible. You can enhance your content through the following ways:
Teach people how to do something.
Analyze something trending.
Share a piece of valuable knowledge.
You want your video to be helpful, relevant, and engaging. Also, it is important to encourage viewers to share their opinion by leaving a comment and subscribing to your channel.
2. Optimize Your Channel
You can use your channel page to alert the YouTube algorithm of your content. Be sure to fill out every aspect of the page. Optimizing the channel will help you trickle down the videos and help rank them on YouTube. Here are some aspects of the page you need to fill:
Links: You can use links to drive more traffic to your videos by adding them to social media platforms. This method also helps search engines associate the links with your channel.
Descriptions: This is an opportunity to give a brief explanation of what the video is about. It also sends text signals to search engines. You should be thorough about your description and use keywords as much as possible.
Channel graphics: A great profile picture and background art will help viewers understand what the video and channel are about. This aspect also increases user experience.
Subscribe: You can always use other powerful YouTube channels to your advantage. Subscribe to other powerful channels with similar content to send a message of association to YouTube. This is how it works; after someone is done viewing a video from the channel, YouTube recommends other similar videos, and you might get lucky.
3. Optimize Your Videos
This is a broad element that encompasses the video itself and your YouTube page. Here are ways of optimizing your videos:
Length of The Video
The size of the video matters a lot. This is more of a correlation than direct causation. Why is this so? Longer videos are more comprehensive and tend to answer the questions to completion. This may satisfy viewers more, leading to more likes, comments, and shares.
However, the video should also be short and precise. You do not want your viewers to get bored by adding too much fluff. Therefore, you should know when to make it longer and when a shorter version would do.
Video Quality
Video quality is not just about the content. Yes, your video should be quality because more than 68% of videos on YouTube's first page are all in HD. Again, this is more of a correlation than a causation, but high-quality videos do attract more viewers, they also engage and satisfy them. Accordingly, the more you invest in quality video creation, the more likely you will produce great content.
4. Create a Playlist
A playlist is a final piece when uploading a new video on YouTube. This aspect helps YouTube learn what your video is about. For every video, ensure you create a playlist with synonym keywords. All the elements below work on the same principles; creating keywords that make your video appear more in search engine results.
Keyword 1: how to rank your videos on YouTube
Keyword 2: how to get more views on YouTube
File name and video title: how to rank your videos on YouTube – get more views on your YouTube videos
Description: ranking your video on YouTube, make your videos appear on the first page of YouTube for more views
Playlist name: YouTube video marketing– ranking your videos on YouTube – get more views on your YouTube videos
5. Create Tags
Tags work in the same way as subscribing to powerful channels. You should understand that tags do not contribute directly to how well your video does. However, they will help your videos show up as suggested items when people are searching for videos in the same niche. This will improve the engagement rate by making your videos appear in front of viewers more.
You can use synonym keywords in your tags but be sure to analyze other popular tags to see if you are missing the point. If you have a problem identifying your tags, use the VidIQ Chrome extension.
6. Collaborate With Others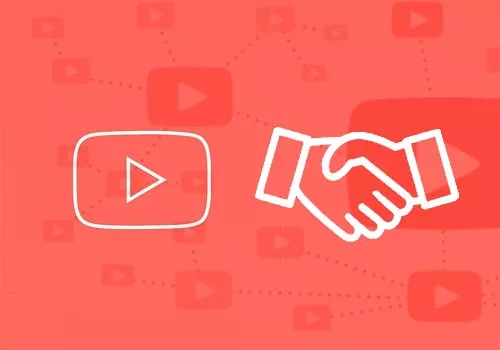 Collaboration is the perfect way to get new subscribers on YouTube. If you are good at your art, then it would be worth forging relationships with other YouTubers in your niche. Here is how YouTube collaboration works:
Identify a similar non-competing channel
Ask the person to collaborate
Recommend your viewers to your partners' channel
This method requires that you have an existing audience to convince other YouTubers to work with you. The solution lies in your creativity.
Leverage from Your Creativity to Win Collaborations
There are many ways you can show your creativity and use it to gain more viewers. Here is an example:
If your channel is about repairing computers, you could contact a popular tech YouTube channel and offer content about the latest operating system. You may not have the audience, but you have unique content that will do well in their channels. This is a perfect way to collaborate without viewers and subscribers.
Whatever you do, you must have a leverage point to benefit the other party.
7. Take It To Social Media Platforms
Conventionally, there are two aspects of SEO:
On page SEO: content, keywords, site structure, codes, and site speed.
Off-page SEO: links
However, social media has changed how people interact, and Google has learned from it. This brings in a third aspect; relevance. Google will always side with the user. Do this from a user perspective. Would you want search results that are outdated and irrelevant?
What Is The Solution?
Google uses social signals as a metric for relevance. Whatever is trending on social media is deemed relevant. If you want your videos to appear on the first page, ensure you create links and share them on social media platforms. The more people engage with your content, the more it relevant it becomes, and the more Google takes note.
Here is how you can do it:
Auto-sync your YouTube channel with Facebook, Instagram, and Twitter accounts. Every time you post a video, it goes to all synced accounts.
Post links directly to your personal accounts.
Post links to WhatsApp, LinkedIn, and Facebook groups.
Final Thoughts
YouTube SEO can be straightforward from a technical perspective. You just need to optimize your tags, descriptions, keywords and add links and relevant cards. However, the most challenging part is keeping your viewers engaged. Use these tips and focus on entertaining, engaging, and ranking your videos. Whatever you do, ensure it would go well with you from a viewer's perspective.
Rithesh Raghavan is the Director at Acodez, a Digital Agency in India, and the co-founder of Acowebs, an online store for eCommerce plugins. Having a rich experience of 15+ years in Digital Marketing, Rithesh loves to write up his thoughts on the latest trends and developments in the world of IT and software development.