How Much Does An Animated Explainer Video Cost?
Welcome to our new blog series, "What to Expect When You're Explaining"! In this four-part series, we'll explore how you can make the most of getting an explainer video – from knowing your price range, to finding the right production company, to understanding the process of making a video, and ending with some tips on how you can make sure your video gets seen and gets results. Today, we'll take a look at the costs of animated video production, and help you determine what you should reasonably expect to pay in order to get a high-quality, conversion-making video.
Part I: How Much Does an Animated Explainer Video Cost?
You know explainer videos, right?
They're those short, engaging online videos that a lot of companies are using on their websites these days. They're typically 60-90 seconds in length and they explain and promote a company, a product, or a service. They come in many forms, the most popular being "animated". You might be thinking "Hey! An Explainer video might be a great investment!" But how much do they cost? You may be confused about pricing, especially if you're unsure about all that goes into producing an Explainer video. And if you begin to research cost, you'll find an overwhelming range of answers. Everything from $350 to $35,000. And with such a vague answer, I'm sure you're asking yourself: "Where do I fit in? What's the best option for me if I'm on a budget, but still wanting high quality? Should I choose an animated, whiteboard or live video?" And you might be finding yourself frustrated by a lack of clear answers.
Here's my disclaimer:
You get what you pay for.

If you really want people to watch your video and react to it (whether it's buying, understanding, talking about or signing up for something), you have to produce one that is worth watching. Take a look at companies that are doing great things like Apple, Salesforce, etc – they're not skimping on the budget of their productions because the somewhat small investment (in the grand scheme of things) makes their brand stand out, and you respect it and buy from them.
Related: 3 Ways to Make a Video Your Customers Will Actually Care About
If you're working with a reputable animated video producer, expect to spend 8 to 15 grand per minute.
You're probably thinking, "Did I read that right?" Yes, you did. You might have seen explainer videos advertised for significantly less, but keep in mind that you cannot significantly cut the cost of your video without also seriously sacrificing quality. What good is a shoestring explainer video if it looks like you made it in your basement? Whereas a high-budget production offers great ROI – making up for the dent in your checkbook – a cheaply-made video may do little more than cause embarrassment and make your company look unprofessional.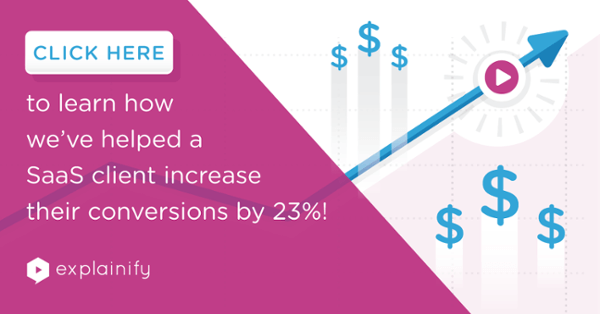 Granted, there can be an initial sense of sticker shock, but when we start to break down the all-inclusive price of a video into hourly rates (how big agencies usually charge) you'll start to see that the pricing is very fair for what is being produced.
Behind each animated video production is the hard work of a talented, dynamic team of creative professionals writing scripts, illustrating, designing, animating, providing voice talent, designing sound, and more. And, as each of these tasks is frequently taken on by one (or more) people all down the line of production, the seemingly high cost of explainer videos starts to make sense. We can also think about this in terms of a video's production timeline:
So, not only does making an explainer video take an experienced and specialized team of creative professionals, it also takes them weeks of hard work to produce a high-quality video on schedule. And remember, the higher the quality of each element of production, the higher the cost of your video.
And remember…
There's another good reason why the best companies charge a higher premium for the videos they create: they work. Explainer videos, when done well, have been shown to help increase conversion rates, boost search engine results, and drive sales. When you purchase an explainer, you're not just simply buying a video, you're paying for a proven, effective process.
Related: 5 HUGE Benefits of Explainer Videos
To put it even more plainly, you're paying for the results you're going to end up with. If you hire a company based upon their "cheapness", you'll unfortunately get exactly what you paid for…a cheap-looking, non-converting video. Look at the quality of their previous projects, read their case studies and you'll be able to easily tell what you're getting.
May 23, 2023
Business has undergone some vast changes in the past 30 years; the Internet itself changed how we...