Explainer Video Production Company, Freelancer, or In-House? You Decide.
Knowing when to use an
explainer video production
company or a freelancer or do it yourself is a hard thing to learn.
If you've been keeping up with the latest trends in marketing, then I'm sure you know by now that it's imperative to include videos in your marketing toolbox.
Using explainer videos is an extremely effective way to engage and educate consumers (it's undeniably our favorite method). Not only that, but it also helps you target your message which leads to an improved conversion rate.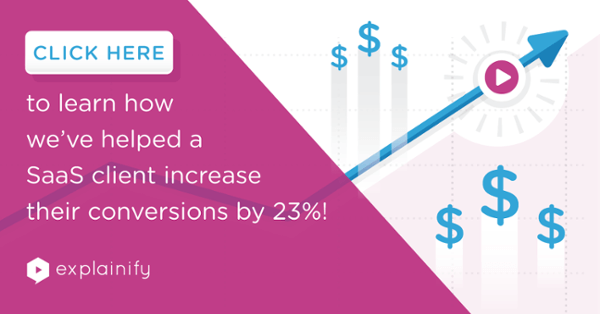 You've read all the studies, seen all the successes that other businesses have had with video marketing, and you're convinced of its value. You've decided! Creating a video for your business is the next step to take. The only problem? Deciding who to hire.
Should you have someone in-house take care of the video to save money? Or maybe you don't have the resources for that, so you're thinking about looking for a qualified freelancer to do the job. But you're not sure if their work will be up to par, so perhaps an explainer video production company would be best?
If you're struggling with this decision, then just keep reading – we'll help you sort out all the pros and cons so you can decide which method is right for your business.
Do-It-Yourself / In-House
Pros:
There's basically only one benefit to finding someone in-house to do the video – you might save some money. Or you might not…
It really depends if you already have the proper equipment and someone trained to do the job. If you don't, then sinking money into a lot of video production equipment or software and then training for it will definitely not be the best use of your capital.
Cons:
Creating a high-quality video is actually a lot more difficult than it seems. It's intricate and shows just how many questions there are when making a video.
It's not simply a matter of pointing an iPad at someone and having them lecture about the product. There are a number of things to consider, like writing an engaging and informative script, finding voice talent, a talented illustrator, having seamless editing, etc.
Unless you have a professional production team on staff that's dedicated to doing that type of work, you'll end up with a video that looks and sounds clunky and amateurish. One of the great benefits of creating a video is that it can be used to represent your company by telling your brand's story.
Using video in this way helps to build connections with consumers. If your video is poor quality, then potential customers will also see that as a reflection of your company.
Outsource to a Freelancer
Pros:
More and more companies these days are choosing to hire freelancers to do work for them. One of the perks of working with freelancers is that you don't have to worry about keeping someone on staff year-round for a project that can be completed in a much shorter amount of time.
That saves you money, thanks to the health insurance and other benefits you don't have to pay for.
There are also a lot of talented freelancers out there to choose from. In today's economy, many people have decided to strike out on their own to work from home. That means you could actually find a freelancer with the training and skills to complete the video.
Cons:
The downside to this is that finding a well-qualified freelancer can be like looking for a needle in a haystack. If you decide to work with a freelancer, how will you find them?
There are tons of platforms that help you sort through and hire freelancers, but are you really sure about the quality of work they'll do? How do you know they have the qualifications that they claim to have? Can you really trust a simple ratings system to guide you to the best person for the job?
Not only do you have to worry about whether the person can do the work they claim to be capable of, but you also have to think about the logistics, such as scheduling. The person you hire might not be in your time zone, which means it may be difficult to schedule meetings with them.
This can lead to a lot of wasted time, and may mean that your project takes even longer than expected.
Oftentimes – we get calls from folks that chose a freelancer or budget competitor and were not happy with their work. So basically, they wasted a good chunk of change and a lot of their precious time. A CEOs time is very precious and should not be spent on herding the cats of video production. They then have to pay a premium to have it fixed, when they should have just worked with a professional the first time.
Explainer Video Production Company
Pros:
With a professional video production company, you get the complete package. Working with a company that specializes in this type of work means that they know the process inside and out and can help lead you through it.
A production company will take time to understand your company's vision and do all that it takes to bring that vision to life. They have years of experience turning brand stories into creative, engaging videos that will hit your target audience where it counts.
You also don't have to worry about getting shoddy work from a professional firm. The company you choose to work with can show you countless examples of their past work and provide you with testimonials that demonstrate the quality and success of their work.
Cons:
Hiring a video production company will cost more than hiring a freelancer or doing the project in-house. The question you need to ask yourself, though, is what's more important – time or money?
Having a partner with a proven process can avoid a more costly problem—a poor brand image.
Would you rather spend the money now and have the project done right the first time? Or do you want to try and save money only to end up with a poor-quality video that just ends up being shelved? That's no good because then you still need a video and have to hire a second firm to fix the first's problems.
Conclusion:
In the end, it's clear that the best way forward is to hire a professional video production company. Doing the work in-house may save you some money, but the end-product will likely be less than stellar. Working with a freelancer might be an option, as long as you can find one that's qualified, responsible, and easy to reach. Pro tip: Don't skimp on budget if you choose that option. Hell, don't skimp on budget for any of the options.
By hiring a production company, you know that you'll end up with a compelling, high-quality video that speaks directly to your target audience. Take the next step and contact Explainify today!



May 23, 2023
Business has undergone some vast changes in the past 30 years; the Internet itself changed how we...